Welcome to our September newsletter
Spring is here which means we can expect the property market to start becoming more active, as restrictions due to COVID-19 start to ease in some parts of the country. We have entered spring with record low interest rates, which is good news for prospective buyers. If you are in a good financial position, now could be the opportunity to snatch up a property within your budget. Here's our latest market news and insights.
Interest rate news
The Reserve Bank of Australia (RBA) announced it has decided to keep the official cash rate unchanged at 0.25 per cent at its meeting on the 1 September. It also decided to expand the Term Funding Facility and make the facility available for longer.
RBA governor Philip Lowe announced at the meeting that unemployment and underemployment remain high. Based on the Bank's central scenario, unemployment will rise to around 10 per cent later in 2020 and is expected to decline gradually to around 7 per cent in two years' time. With this outlook, the RBA reiterated that it will not increase the cash rate until Australia is on its way back towards full employment and inflation is sustainably within the 2-3 per cent target band.
Home value movements
Housing values recorded a 0.4% fall in August on its fourth month decline due to the impact of COVID-19. However, the rate of decline has eased over the past two months and five of the eight capitals recorded steady or rising values through the month.
In the Home Value Index report from CoreLogic, Melbourne's housing market, again, has posted the largest fall over the month, down at -1.20% in August. The rest of the capital cities all performed better as compared to the previous month. The decline in home values has eased down in Sydney (-0.46%) and Brisbane (-0.07%) while Canberra (+0.53%) and Adelaide (+0.02%) remained firm. Home values rose in Perth (+0.02%), Hobart (+0.13%), and Darwin (+1.00%). Tim Lawless, CoreLogic's head of research, said "The performance of housing markets are intrinsically linked with the extent of social distancing policies and border closures which also have a direct effect on labour market conditions and sentiment. It's not surprising to see Melbourne as the weakest housing market considering the extent of the virus outbreak, and subsequent restrictions, which have weakened the economic performance of Victoria."
Property market activity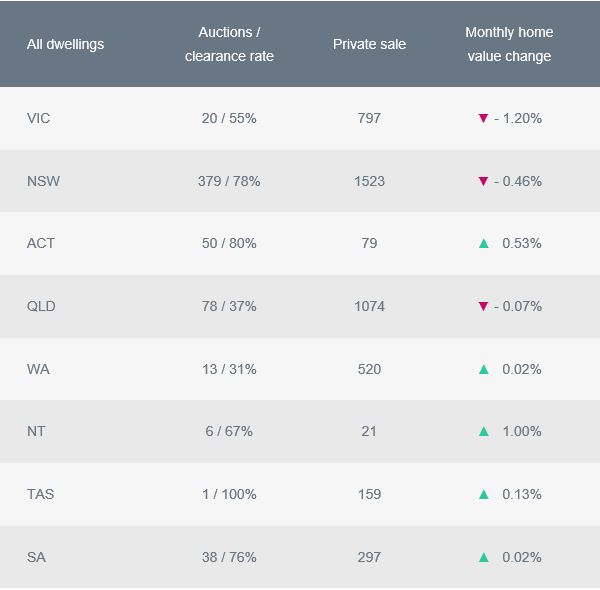 * Monthly Home Values figures as at August 31, 2020
* Australian auction results, clearance rates and recent sales for the week ending August 30, 2020. The clearance rate is preliminary and current as at 10:35 am, August 31, 2020.

Decreased housing values and record low interest rates means greater affordability for property buyers this Spring. Whether you're looking for a place to live in or wanting to dabble in the world of property investment, speak to us about organising your finance and pre-approval on a home loan. This will put you in a great position to negotiate on the property you want. Get in touch today so we can get it sorted!
The information provided is general information only and has been prepared without taking into account your objectives, financial situation or needs. We recommend that you consider whether it is appropriate for your circumstances. Your full financial situation will need to be reviewed prior to acceptance of any offer or product. This article does not constitute legal, tax or financial advice and you should always seek professional advice in relation to your individual circumstances. Subject to lenders terms and conditions, fees and charges and eligibility criteria apply.