Welcome to our November Newsletter
It's been an exciting few months in the property world, with the housing recovery continuing to gather momentum. In October, all capital cities except Perth saw dwelling values increase. Meanwhile, auction activity remained strong for most of October. Some industry experts expect the usual spring surge in buyer activity to stretch to Christmas this year. If you're thinking about a summer property purchase, now is the time to organise your finance!
Interest rate news
This month, the Reserve Bank of Australia (RBA) decided to leave the official cash rate on hold at 0.75% pa. The decision follows a rate cut in October to the current historic low, plus previous cuts in June and July this year.
Some lenders passed on the full 0.25% cut in October, while others passed on some of the cut. If you haven't reviewed your mortgage in a while, now is a good time to have us take a look at it for you. We may be able to find you a more competitive deal or a home loan that better suits your current financial situation and future goals.
Home value movements
Great news for homeowners and investors – dwelling values increased in all capital cities except Perth in October. The biggest increase was in Melbourne, where home values rose 2.27% throughout the month. In Sydney, prices increased by 1.66%, while Hobart saw values rise by 0.91%. Brisbane prices increased by 0.84%. In Adelaide they crept up 0.37% and Darwin saw property prices rise 0.29%. Meanwhile, Perth's property values fell 0.42%.
Property market activity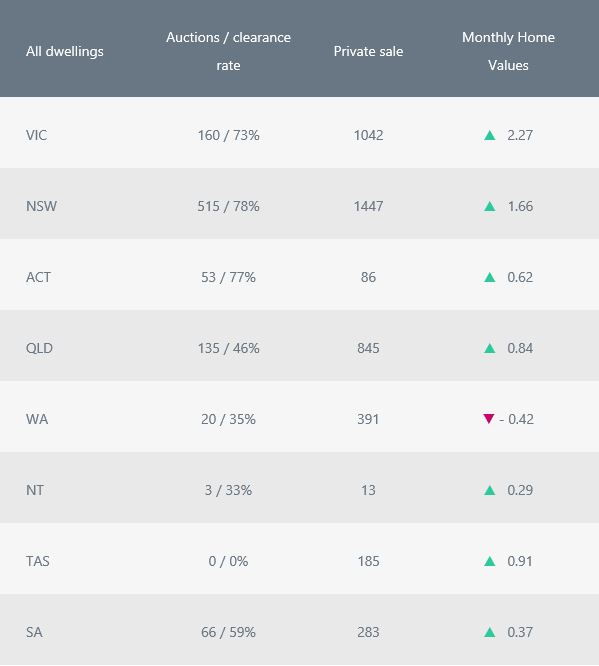 * Monthly Home Values figures as at October 31, 2019
* Australian auction results, clearance rates and recent sales for the week ending November 3, 2019. The clearance rate is preliminary and current as at 11:18 am, November 4, 2019.
We're here to help
Considering buying your own home or investment property? We can arrange finance that's tailored to your specific needs. Speak to us and we'll explain your borrowing capacity, organise pre-approval on your finance and walk you through the loan application process. Please get in touch!
The information provided is general information only and has been prepared without taking into account your objectives, financial situation or needs. We recommend that you consider whether it is appropriate for your circumstances. Your full financial situation will need to be reviewed prior to acceptance of any offer or product. This article does not constitute legal, tax or financial advice and you should always seek professional advice in relation to your individual circumstances. Subject to lenders terms and conditions, fees and charges and eligibility criteria apply.