Welcome to our May Newsletter
The busy Autumn selling season is in full swing, with many property bargains available as the housing market correction continues across the country. With the Federal Election looming this weekend, we can expect to see property market activity to slow a little too. Meanwhile, economists predict there may be good news on the horizon for home owners, with the possibility of an RBA rate cut increasing after the Federal Election is over.
Interest rate news
As expected, the Reserve Bank of Australia (RBA) decided to keep the official cash rate at 1.5% during its May meeting.  Early in April, many banks cut rates on Fixed Rate Home Loans in anticipation of RBA rate cuts later this year.
During the last week of April, the Australian Dollar went on a surprising slide below US$70c after the US Federal Reserve failed to cut interest rates, despite demands from President Donald Trump. Analysts predict the RBA is likely to cut rates in order to stimulate a continuation of this trend, as a lower Aussie Dollar will be great news for our economy.
Home value movements
During April, the housing market correction started to have a significant impact on homeowners. According to ANZ, almost 5% of households have slipped into negative equity on their home loan. (That's where you owe more on your home loan than the current market value of your home).
The Housing Institute of Australia has also indicated that several hundred thousand new apartments and units are about to hit the market, which may cause home prices to fall even further.
Nevertheless, analysts are still saying home values should start to recover in 2020, so the current market conditions are only likely to affect homeowners wanting to sell this year. Meanwhile, it's a great opportunity for those looking to get onto the property ladder – particularly for first home buyers looking for bargains at the lower end of the market.
Property market activity
Despite the housing market correction, the Autumn property market has been very active, with more homes now being sold via private sales than auctions. The table below shows property market activity as at May 6, 2019.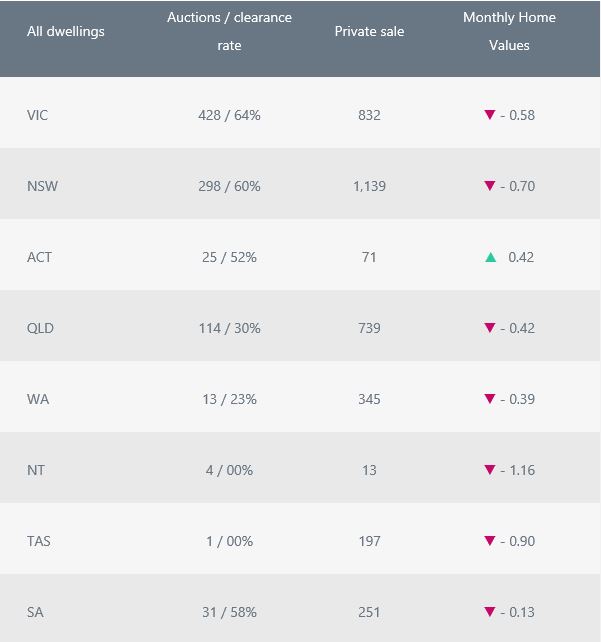 If you're in the market for a bargain, see us about a pre-approval!
Just a reminder that bank lending criteria have tightened over the past 6 months, so it's important to see us to check your borrowing power and to get a pre-approval on a home loan if you're in the market to buy property.
Please call us today to find out more.
Sources:
The information provided is general information only and has been prepared without taking into account your objectives, financial situation or needs. We recommend that you consider whether it is appropriate for your circumstances. Your full financial situation will need to be reviewed prior to acceptance of any offer or product. This article does not constitute legal, tax or financial advice and you should always seek professional advice in relation to your individual circumstances. Subject to lenders terms and conditions, fees and charges and eligibility criteria apply.