Welcome to our March Newsletter
Autumn is here! Activity in the property market usually picks up during this time, so an exciting month is ahead of us.
Whether your goal for 2020 is to buy a new home, an investment property, or to refinance your existing home loan, your mortgage broker will be happy to assist you throughout the process.
Interest rate news
At its March meeting, the Reserve Bank of Australia (RBA) decided to cut the official cash rate to 0.50%, following the rate hold decision in February. Industry experts have been expecting an interest rate cut in the first half of 2020 and the low rates likely to continue throughout the year. You can take advantage of the historically low rates by getting in touch with your mortgage broker to help you find a competitive home loan.
Home value movements
In a December 2019 report from the Australia Bureau of Statistics (ABS), there was a 4.4% increase in total housing finance for the purchase of property over the month of December – this has been the highest monthly growth rate in over three years. This is great news for homeowners! According to CoreLogic, it means that housing values are likely to increase. This could be a good time to get in touch with your mortgage broker to help you find the right home loan for you. There is also an oversupply of new apartments in state capitals, which resulted in lower prices and higher vacancies. If you're looking for an apartment or unit, it's worth considering to start shopping around.
Over the last month, all the capital cities experienced a month-on-month increase, with the exception of Darwin, which had a decline of -1.37% in February. The highest monthly increase is in Sydney at 1.71%, followed by Melbourne at 1.24%. Hobart increased 0.77%, 0.76% for Canberra, 0.57% for Brisbane, 0.30% for Perth, and 0.06% for Adelaide. As for auction results in February, Tasmania had the highest clearance rate at 100%.
Property market activity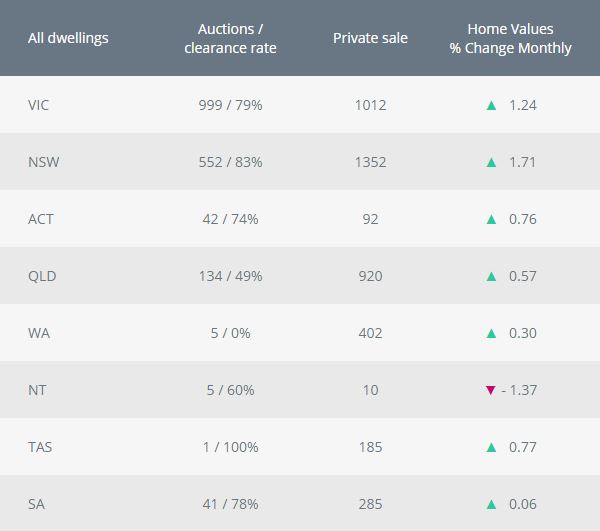 * Monthly Home Values figures as at February 29, 2020
* Australian auction results, clearance rates and recent sales for the week ending March 1, 2020. The clearance rate is preliminary and current as at 9:36 am, March 2, 2020.

We're here to help you achieve your property goals
With a reputable mortgage broker at your side, you can be confident that you are on the right track to making your property goals a reality, so let's talk about your plans today! We will also be happy to offer referrals to complete your team of reliable professionals to help you obtain and maintain your dream property. Get in touch with us and we can refer you to a reputable solicitor or conveyancer, a real estate agent, and a builder, among others.
The information provided is general information only and has been prepared without taking into account your objectives, financial situation or needs. We recommend that you consider whether it is appropriate for your circumstances. Your full financial situation will need to be reviewed prior to acceptance of any offer or product. This article does not constitute legal, tax or financial advice and you should always seek professional advice in relation to your individual circumstances. Subject to lenders terms and conditions, fees and charges and eligibility criteria apply.