Welcome to our February Newsletter
We hope 2020 is off to a positive start for you.
Activity in the property world has been quiet of late, in line with the seasonal festive period slowdown. However, as we progress into February, things are bound to pick up. If your goals this year include purchasing a property, now is the time to talk to your mortgage broker about how to make that dream a reality. Dwelling values rose in all capital cities in January, so it's worth jumping in sooner rather than later, in order to secure a good deal.
Interest rate news
The Reserve Bank of Australia (RBA) held its first board meeting on monetary policy for the year on February 4. The board decided to leave the official cash rate on hold at 0.75 per cent. Last year, we saw three cash rate drops and many lenders adjusted their rates accordingly. If you've been with the same lender for a while, it's worth asking us to review your current home loan – we might be able to save you money by negotiating a better rate on your behalf as there are incredible deals available.
Home value movements
In exciting news for homeowners, housing values rose across every capital city in January. According to CoreLogic figures, dwelling values increased across all capitals by 0.9%. CoreLogic head of research, Tim Lawless, said the housing recovery which began in Sydney and Melbourne was now spreading to other areas of the country.
Property market activity
As expected for this time of year, auction activity has been slow in recent weeks.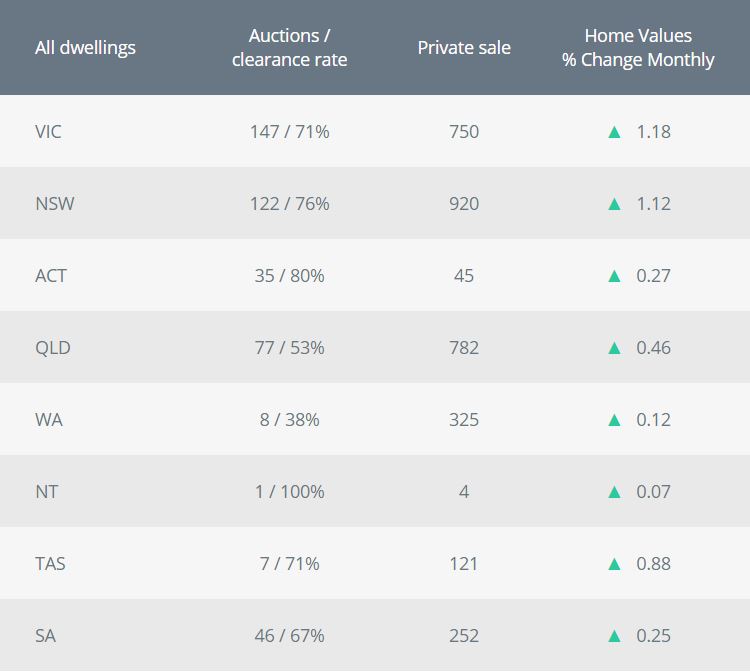 * Monthly Home Values figures as at January 31, 2020.
* Australian auction results, clearance rates and recent sales for the week ending February 2, 2020. The clearance rate is preliminary and current as at 12:50pm, February 3.
If you're in the market to buy a home or investment property, now is the time to speak to us about your finance options. We offer tailored finance solutions, no matter what your goals are in 2020. Please give us a call and we'll find the right home loan or investment loan for your specific needs.
Sources:
https://www.realestate.com.au/auction-results/
https://www.corelogic.com.au/research/monthly-indices
https://www.corelogic.com.au/news/corelogic-december-2019-home-value-index-strong-finish-housing-values-2019-corelogic-national
https://www.corelogic.com.au/news/corelogic-january-2020-home-value-index-housing-values-rose-across-every-capital-city-january
The information provided is general information only and has been prepared without taking into account your objectives, financial situation or needs. We recommend that you consider whether it is appropriate for your circumstances. Your full financial situation will need to be reviewed prior to acceptance of any offer or product. This article does not constitute legal, tax or financial advice and you should always seek professional advice in relation to your individual circumstances. Subject to lenders terms and conditions, fees and charges and eligibility criteria apply.